Discover more from Shawn Kemp Art
Sketching with pens, iterating with code, cutting with lasers, stacking paper.
Introducing the ForgePass
A redeemable token for commissioning limited edition in-real-life wall sculptures of Shawn Kemp's generative art using it's embedded digital blueprint.
A ForgePass allows the holder to commission a three-dimensional wall sculpture using the digital blueprints that are an integral part of my generative art. 
These signed physical artworks are created through an intricate process of cutting sheets of material using a high powered laser. These layers are then carefully stacked and glued together to create a unique physical manifestation that plays with light and shadow. 
You redeem a ForgePass and in return you receive a limited edition physical artwork that is created, signed, and numbered by the artist. 
How do I get a ForgePass?
On Tezos you can get on the reserve list to create a new ForgePass by minting one of my generative projects on fxhash at the top tier DA range or if you are lucky enough to mint one of the projects special outputs. You can also check the secondary marketplace and see if anyone is selling ForgePasses that they don't want to use themselves. 
On Ethereum …… you'll just have to wait and see as it's still a secret.
What can I use a ForgePass on?
ForgePasses can be used on any project or token that is designated as ForgePass compatible. You can commission a physical for any token you own or in some cases with my permission customize the colors or even select an out of band output that happens to strike your fancy and matches the decor where you want to display it. 
What does a ForgePass get you?
A ForgePass can be redeemed for a 16x20" twelve layer physical, but can be stacked to acquire larger sized pieces. For example a project designed for 24x30" outputs would require two ForgePasses. Or you could choose to use a single pass to get two smaller 8x10" pieces.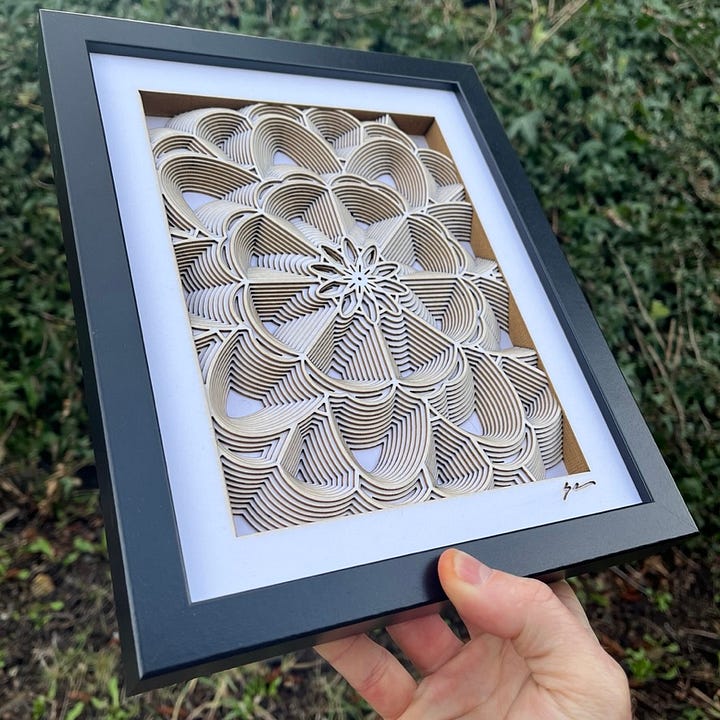 Each ForgePass compatible artwork has details on how many ForgePasses are required depending on the unique properties of each blueprint. In general the larger it is, the more layers, and more intricate the details the more passes will be required to commission a physical edition. 
What happens to redeemed ForgePasses?
I hold onto them for safe keeping and from time to time may list a few on secondary in order to help provide liquidity, increase the floor, and help facilitate marketplace activity.
What about shipping?
It's usually an extra fee, especially if the physical is traveling the world. In general shipping ranges from $10-90, depending on the size of the artwork and how remote the destination. 
Do ForgePasses have a value?
They have no direct monetary value. It's an access token that gives a holder permission to request the commission of a physical from the artist. 
Will ForgePasses have other utility?
You betcha, but it's a secret right now. Just know that having a record on the chain of having owned a ForgePass makes you part of the club and able to participate in all kinds of special things over time. I believe in spreading delight and joy. 
Can I commission a physical without a ForgePass?
Probably not, especially for ForgePass generative projects.
How do I redeem a ForgePass?
Please DM @shawnkemp on twitter or email upspireart+forgepass@gmail.com first about which token you want to use your ForgePass on so I can help estimate shipping costs to your location and we can discuss any special requests you might have. 
On Tezos you'll send the ForgePass and shipping fee to:
totz2D7W6YLN8Y48cbinuo2n4aRRoBBECqvz95
Let's look how this might work using an example fxhash project. 
Lets say it's a 99 edition project with a DA from 199 -> 9tz. Minters at the top tier will get added to the reserve list for minting a ForgePass and the three rarest mints will also get a reserve as well.
If you mint at the top tier you'll be able to commission a 16x20" physical of whatever token you hold that is your favorite. If you think you want a 24x30' physical you'll probably want to pick up two or three mints at the top tier so you have enough ForgePasses to commission a larger size.